Map of Hong Kong- China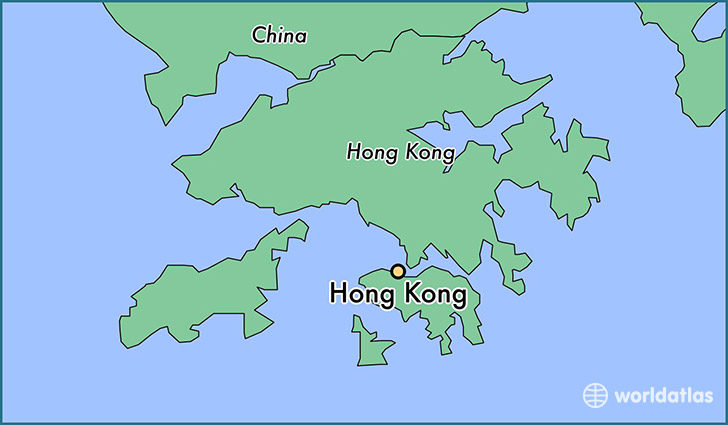 Hong Kong, officially the Hong Kong Special Administrative Region of the People's Republic of China, is an autonomous territory on the Pearl River Delta of East Asia. Macau lies across the delta to the west, and the Chinese province of Guangdong borders the territory to the north. With a total land area of 1,106 square kilometres (427 sq mi) and a population of over 7.3 million of various nationalities, it ranks as the world's fourth most densely populated sovereign state or territory.
After the First Opium War (1839–42), Hong Kong became a British colony with the perpetual cession of Hong Kong Island, followed by the Kowloon Peninsula in 1860 and a 99-year lease of the New Territories from 1898. Hong Kong was later occupied by Japan during World War II until British control resumed in 1945. In the early 1980s, negotiations between the United Kingdom and China resulted in the 1984 Sino-British Joint Declaration, which paved way for the transfer of sovereignty of Hong Kong in 1997, when it became a special administrative region (SAR) with a high degree of autonomy.
Under the principle of "one country, two systems", Hong Kong maintains a separate political and economic system from China. Except in military defence and foreign affairs, Hong Kong maintains its independent executive, legislative and judiciary powers. In addition, Hong Kong develops relations directly with foreign states and international organisations in a broad range of "appropriate fields".
Hong Kong is one of the world's most significant financial centres, with the highest Financial Development Index score and consistently ranks as the world's most competitive and most laissez-faire economic entity in the World Competitiveness Yearbook. Its legal tender, the Hong Kong dollar, is the world's 13th most traded currency. Hong Kong's tertiary sector dominated economy is characterised by simple taxation with a competitive level of corporate tax and supported by international confidence in its independent judiciary system where the rule of law, not rule by law, applies to legal, contractual proceedings.However, while Hong Kong has one of the highest per capita incomes in the world, it suffers from the most severe income inequality among developed economies.
Hong Kong is renowned for its deep natural harbour, which enables ready access by international cargo ships, and its impressive skyline, with a very high density of skyscrapers; the territory boasts the second largest number of high rises of any city in the world. It has a very high Human Development Index ranking and the world's longest life expectancy.Over 90% of the population makes use of well-developed public transportation. Seasonal air pollution with origins from neighbouring industrial areas of Mainland China, which adopts loose emissions standards, has resulted in a high level of atmospheric particulates.
Population: 7 385 981 (2017)
Language
The official languages of Hong Kong are Chinese and English, however the difference between Cantonese and Mandarin makes the answer a little more complicated.
Hong Kongers speak Cantonese, a southern dialect of Chinese originating in the Guangdong region. Cantonese is spoken by Hong Kongers and those in Shenzhen, Guangzhou and Chinatowns around the world. Mandarin the official dialect of China, used through the country for government communication, and the by far the dominant language.
Currency

The Hong Kong dollar. The legal tender in Hong Kong is the Hong Kong dollar (HKD), which is pegged to the US dollar at a rate of about 7.80 HKD to 1 USD.
Geography and climate
Hong Kong is located on China's south coast, 60 km (37 mi) east of Macau on the opposite side of the Pearl River Delta. It is surrounded by the South China Sea on the east, south, and west, and borders the Guangdong city of Shenzhen to the north over the Sham Chun River. The territory's 2,755 km2 (1,064 sq mi) area consists of Hong Kong Island, the Kowloon Peninsula, the New Territories, and over 200 offshore islands, of which the largest is Lantau Island. Of the total area, 1,106 km2 (427 sq mi) is land and 1,649 km2 (637 sq mi) is water. Hong Kong claims territorial waters to a distance of 3 nautical miles (5.6 km). Its land area makes Hong Kong the 167th largest inhabited territory in the world. Less than 25% of Hong Kong's land area is built-up, while the majority is grassland, woodland, shrubland, and agricultural land.
As much of Hong Kong's terrain is hilly to mountainous with steep slopes, less than 25% of the territory's landmass is developed, and about 40% of the remaining land area is reserved as country parks and nature reserves. Low altitude vegetation in Hong Kong is dominated by secondary rainforests, as the primary forest was mostly cleared during the Second World War, and higher altitudes are dominated by grasslands. Most of the territory's urban development exists on Kowloon peninsula, along the northern edge of Hong Kong Island, and in scattered settlements throughout the New Territories. The highest elevation in the territory is at Tai Mo Shan, 957 metres (3,140 ft) above sea level. Hong Kong's long and irregular coast provides it with many bays, rivers and beaches. On 18 September 2011, UNESCO listed the Hong Kong National Geopark as part of its Global Geoparks Network. Hong Kong Geopark is made up of eight Geo-Areas distributed across the Sai Kung Volcanic Rock Region and Northeast New Territories Sedimentary Rock Region.
Despite Hong Kong's reputation of being intensely urbanised, the territory has tried to promote a green environment, and recent growing public concern has prompted the severe restriction of further land reclamation from Victoria Harbour. Awareness of the environment is growing as Hong Kong suffers from increasing pollution compounded by its geography and tall buildings. Approximately 80% of the city's smog originates from other parts of the Pearl River Delta.
Though it is situated just south of the Tropic of Cancer, Hong Kong has a humid subtropical climate (Köppen Cwa). Summer is hot and humid with occasional showers and thunderstorms, and warm air coming from the southwest. Typhoons most often occur in summer. They sometimes result in flooding or landslides. Winters are mild and usually start sunny, becoming cloudier towards February; the occasional cold front brings strong, cooling winds from the north. The most temperate seasons are spring, which can be changeable, and autumn, which is generally sunny and dry. Snowfall is extremely rare, and usually occurs in areas of high elevation. Hong Kong averages 1,948 hours of sunshine per year, while the highest and lowest ever recorded temperatures at the Hong Kong Observatory are 36.3 °C (97.3 °F) on 8 August 2015 and 0.0 °C (32.0 °F) on 18 January 1893, respectively. The highest and lowest ever recorded temperatures across all of Hong Kong, on the other hand, are 37.9 °C (100.2 °F) at Happy Valley on 8 August 2015 and −6.0 °C (21.2 °F) at Tai Mo Shan on 24 January 2016, respectively. With data beginning in 1998, the highest and lowest temperatures ever recorded at the Hong Kong International Airport are 37.7 °C (99.9 °F) on 9 August 2015 and 2.9 °C (37.2 °F) on 24 January 2016, respectively.
Religion
Hong Kong is a multi-faith society. A majority of residents of Hong Kong have no religious affiliation, professing a form of agnosticism or atheism. According to the United States Department of State 43 percent of the population practises some form of religion. Some figures put it higher, according to a Gallup poll, 64% of Hong Kong residents do not believe in any religion.
In Hong Kong teaching evolution won out in curriculum dispute about whether to teach other explanations, and that creationism and intelligent design will form no part of the senior secondary biology curriculum.
Hong Kong enjoys a high degree of religious freedom, guaranteed by the Basic Law. Hong Kong's main religions are Buddhism, Taoism and Confucianism; a local religious scholar in contact with major denominations estimates there are approximately 1.5 million Buddhists and Taoists. A Christian community of around 833,000 forms about 11.7% of the total population; Protestants outnumber Roman Catholics by a ratio of 4:3, and smaller Christian communities also exist, including the Latter-day Saints and Jehovah's Witnesses. The Anglican and Roman Catholic churches each freely appoint their own bishops, unlike in mainland China. There are also Sikh, Muslim, Jewish, Hindu and Bahá'í communities. The practice of Falun Gong is tolerated.
Health
There are 13 private hospitals and more than 40 public hospitals in Hong Kong. There is little interaction between public and private healthcare. The hospitals offer a wide range of healthcare services, and some of the territory's private hospitals are considered to be world class. According to UN estimates, Hong Kong has one of the longest life expectancies of any country or territory in the world. As of 2012, Hong Kong women are the longest living demographic group in the world.
There are two medical schools in the territory, one based at the Chinese University of Hong Kong and the other at the University of Hong Kong. Both have links with public sector hospitals. With respect to postgraduate education, traditionally many doctors in Hong Kong have looked overseas for further training, and many took British Royal College exams such as the MRCP(UK) and the MRCS(UK). However, Hong Kong has been developing its own postgraduate medical institutions, in particular the Hong Kong Academy of Medicine, and this is gradually taking over the responsibility for all postgraduate medical training in the territory.
Since 2011, there have been growing concerns that mothers-to-be from mainland China, in a bid to obtain the right of abode in Hong Kong and the benefits that come with it, have saturated the neonatal wards of the city's hospitals both public and private. This has led to protest from local pregnant women for the government to remedy the issue, as they have found difficulty in securing a bed space for giving birth and routine check-ups. Other concerns in the decade of 2001–2010 relate to the workload medical staff experience; and medical errors and mishaps, which are frequently highlighted in local news.
Culture
Hong Kong is frequently described as a place where "East meets West", reflecting the culture's mix of the territory's Chinese roots with influences from its time as a British colony. Concepts like feng shui are taken very seriously, with expensive construction projects often hiring expert consultants, and are often believed to make or break a business. Other objects like Ba gua mirrors are still regularly used to deflect evil spirits, and buildings often lack any floor number that has a 4 in it, due to its similarity to the word for "die" in Cantonese. The fusion of east and west also characterises Hong Kong's cuisine, where dim sum, hot pot, and fast food restaurants coexist with haute cuisine.
Hong Kong is a recognised global centre of trade and calls itself an "entertainment hub". Its martial arts film genre gained a high level of popularity in the late 1960s and 1970s. Several Hollywood performers, notable actors and martial artists have originated from Hong Kong cinema, notably Bruce Lee, Jackie Chan, Chow Yun-fat, Michelle Yeoh, Maggie Cheung and Jet Li. A number of Hong Kong film-makers have achieved widespread fame in Hollywood, such as John Woo, Wong Kar-wai, and Stephen Chow. Homegrown films such as Chungking Express, Infernal Affairs, Shaolin Soccer, Rumble in the Bronx, In the Mood for Love and Echoes of the Rainbow have gained international recognition. Hong Kong is the centre for Cantopop music, which draws its influence from other forms of Chinese music and Western genres, and has a multinational fanbase.
The Hong Kong government supports cultural institutions such as the Hong Kong Heritage Museum, the Hong Kong Museum of Art, the Hong Kong Academy for Performing Arts, and the Hong Kong Philharmonic Orchestra. The government's Leisure and Cultural Services Department subsidises and sponsors international performers brought to Hong Kong. Many international cultural activities are organised by the government, consulates, and privately.
Hong Kong has two licensed terrestrial broadcasters – ATV and TVB. There are three local and a number of foreign suppliers of cable and satellite services. The production of Hong Kong's soap dramas, comedy series, and variety shows reach audiences throughout the Chinese-speaking world. Magazine and newspaper publishers in Hong Kong distribute and print in both Chinese and English, with a focus on sensationalism and celebrity gossip. The media in Hong Kong is relatively free from official interference compared to Mainland China, although the Far Eastern Economic Review points to signs of self-censorship by media whose owners have close ties to or business interests in the People's Republic of China and states that even Western media outlets are not immune to growing Chinese economic power.
Hong Kong offers wide recreational and competitive sport opportunities despite its limited land area. It sends delegates to international competitions such as the Olympic Games and Asian Games, and played host to the equestrian events during the 2008 Summer Olympics. There are major multipurpose venues like Hong Kong Coliseum and MacPherson Stadium. Hong Kong's steep terrain and extensive trail network with expansive views attracts hikers, and its rugged coastline provides many beaches for swimming.